Welcome to the 7 Day
WholeFoods Winter Cleanse
---
Thank you so much for joining me on this cleanse,
I do hope you enjoy it and look forward to hearing about
the benefits achieved and your experiences doing it.
Please scroll down to find the various documents
and details of Live Calls.
Here's to a healthy 2021
Rosemary
---
Don't know where to start? Hopefully, this little outline will help you.
The Guidebook
This is a great source of reference and has the following bits of information in it.

Make yourself a cuppa, and have a read through it, I have spent a lot of time on this and it holds a wealth of information that will help you get the best results from doing this Cleanse.
Your in-depth Welcome

Why Should you do a Detox or Cleanse

How Toxicity can cause symptoms in your body

Getting Started

Common signs of Liver needing Attention & 11 steps to support it

The 3 phases of the detox

Daily Stress Relief

Food Intolerance and What the future holds?
DOWNLOAD GUIDEBOOK
The Meal Plan & Recipes
Your guide to what meals will be eaten when and also your recipe book, I love having this printed and in the kitchen but if you prefer to keep it online then I totally understand.

Keep to the variety of foods as much as possible as the various vegetables, herbs and spices are used for a reason to help your body detox and be nurtured to it's fullest extent.
Meal Plan – Definitely Print this page out and have it on your fridge or wall.
Shopping List for the 7 days

Recipes for: Breakfasts, Lunches, Dinners & Snacks & Treats
DOWNLOAD MEAL PLAN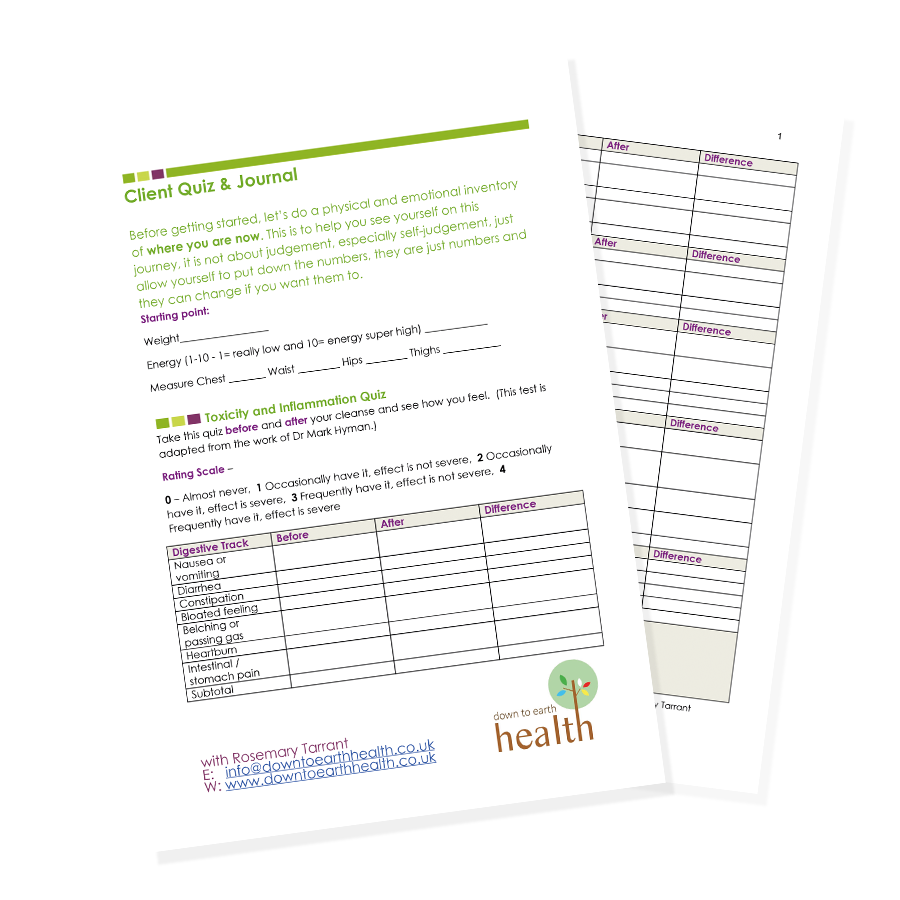 Journal
I know it's only 7 Days and you may wonder what could you possibly learn in that short space of time. However, again I have spent a lot of time on this document and the reason is that we can learn a lot about ourselves in 30 minutes if we give ourselves the time to consider how we are feeling. So there is a great questionnaire to be done at the beginning so that you can find where your starting line is and then a follow-up one for the end with time for questions and reflection in between.
So get your pen out, get your head in the game and your results doing this 7 day cleanse will soar.

I will be so looking forward to hearing your results.
DOWNLOAD JOURNAL
---

Toxin Reduction Tips & Tools
Enhancing any Detox are some fabulous techniques to help support your body's ability to cleanse, so these are really encouraged and I will be speaking more about these in the Live calls also.
Water & Lemon Water
Body Brushing
Toxin Elimination Bath
Exercise
Fibre
Castor Oil Packs
Lymphasizing
DOWNLOAD TIPS & TOOLS
---
Food Preparation & Tips
Just a little information on how to make this time easy, doable, achievable and above all, enjoyable.
DOWNLOAD TIPS
---
Live Calls/Recorded Calls
During the Live 7 Day Cleanse there are three call times allocated and I would so urge you to attend them live as I can answer any question you may have.

 

However, if you can't attend them live, you can still listen to the recordings and perhaps someone else will have had the same question.
Call dates:
10th January 4pm
14th January 7pm
17th January 5pm
Live group Zoom calls or Facebook Lives TBC
Q: What if I'm not available for the live calls?
A: While I encourage you to participate on the live calls if at all possible, I will have recordings available, so you can listen from the comfort of your own home.
---
If you still have questions (and I am expecting you to, so don't be shy!) just pop me an email
or hop on to the Facebook group and ask.
I AM HERE TO HELP & SUPPORT YOU AND SO LOOKING FORWARD TO HELPING YOU ON THIS JOURNEY.
Rosemary
---